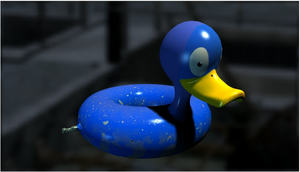 A bright blue inflatable rubber duck. It also appears to be an innertube designed for children.
The Longest Journey
[
]
April sees the ducky trapped under a rusty grill in the Venice canals, and frees by scattering crumbs so a seagull will peck a hole in it. Once freed, the duck floats down to the Fringe Cafe and gets snagged.
When April retrieves it, she finds that someone has mysteriously put a Band-aid over the hole in the duck. She uses the ducky as part of a complicated apparatus to retrieve a key from the Metro Line. This is one of, if not the most famous (and hated) of TLJ's puzzles.
Obtained from the canal that runs below April's window.
Dreamfall Chapters
[
]
Zoë finds some unexpected evidence of the ducky in Europolis when she encounters a notice posted on a wall that the ducky has been found.
Trivia
[
]
In the Norwegian version of the game when April sees the duck floating through the Bridges of Venice, rather than the English "Bon voyage, ducky!", she says "Bon voiage, Donald!": obviously a reference to Disney's Donald Duck.
The title of the notice: "Hello! Is it me you're looking for?" is a reference to the lyrics of the Lionel Ritchie song "Hello."
Actual rubber ducks are small, yellow bath toys.