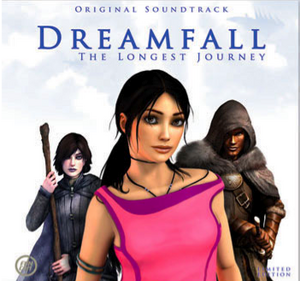 The score of Dreamfall was composed by Leon Willett with additional contributions.
The Official Soundtrack CD release
Edit
An original soundtrack release was available June 13th, 2006, comprising the following tracks.
NO.
TRACK NAME
COMPOSER
DURATION
TYPE
PLAYS WHERE & WHEN
1
Dreamfall Theme
Leon Willett
2:40
score
main menu
2
The Hospital Room
Leon Willett
2:23
score
cutscene, intro
3
Casablanca
Leon Willett
3:42
score
cutscene/gameplay
4
JIVA
Leon Willett
2:25
score
5
Reza's Apartment
Leon Willett
3:50
score
6
Northlands Forest
Leon Willett
3:13
score
7
Newport
Leon Willett
3:00
score
8
The Underground Cave
Leon Willett
2:40
score
9
Marcuria
Leon Willett
2:44
score
10
Meeting April Ryan/April's Theme
Leon Willett
2:22
score
11
Necropolis
Leon Willett
1:49
score
12
Sadir
Leon Willett
3:18
score
13
WATIcorp
Leon Willett
6:04
score
14
The Swamplands
Leon Willett
3:15
score
15
Kian's Theme
Leon Willett
2:54
score
16
Zoë's Theme
Leon Willett
1:29
score
17
St Petersburg
Simon Poole
2:00
score
18
The Factory
Simon Poole
1:12
score
19
Lana & Maud (edit)
Slipperhero aka Simon Poole
2:09
source music
cutscene, The Fringe conversation
20
Clay (edit)
Octavcat
2:37
score
21
Rush
Ingvild Hasund
3:16
score
gameplay, last Casablanca sequence
22
Faith
Morten Sørlie
2:40
score
total playing time ~ 61 minutes
Even 'Magnet' Johansen
Edit
Dreamfall also features four songs by rock musician Even 'Magnet' Johansen, of which 'Nothing Hurts Now' is the easiest to catch. Magnet's music also formed part of a promotional EP. The songs are included on an extra CD that comes with the Dreamfall Limited Edition. It was also released at retail in Norway, and can still be ordered online.
'Be With You' was composed specifically for the game. The other songs are from other Magnet albums; 'My Darling Curse' and 'Nothing Hurts Now' can be found on Magnet's album On Your Side (2003), and 'The Pacemaker' on the album The Tourniquet (2005).
Be With You
My Darling Curse
The Pacemaker
Nothing Hurts Now
Availability of the Soundtrack
Edit
The official, physical CD release of the game's score is difficult to acquire these days. Ebay and Amazon marketplace might still be good sources. In the meantime, the soundtrack has become available in different form. A purchase of the Dreamfall game on GOG.com, for example, comes with the entire score exactly as found on CD.
The soundtrack was also released by Funcom on iTunes for digital download, on June 7th, 2006.
After seven minutes of silence, the last CD track "Faith" plays a hidden message. The music at the beginning of track 22 is just about 2:40 long, while the entire track takes 9:32 to complete.
Some players have tried to interpret the track title "Lana & Maud" as names of Dreamfall characters (namely the twins). However, this is just a third track by composer Simon Poole – who uses his online identity "slipperhero" here. Music and title track likely predate the Dreamfall project.[1]
"Lana & Maud (edit)" is also used during Dreamfall Chapters and can be heard in front of the "White Swallow"/"Pub Lick" clubs in Propast.
References
Edit
Community content is available under
CC-BY-SA
unless otherwise noted.