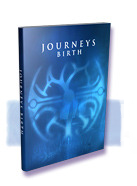 Journeys Birth is a short story collection available in tiers of the Kickstarter campaign for Dreamfall Chapters. The audio book version is also available as an add-on to existing tiers.
The description on Kickstarter states: "This short-story collection contains three novellas and a bridging story that delve into the background of characters you will encounter in Dreamfall Chapters. Journeys: Birth will be available in a variety of formats, including PDF, EPUB and MOBI, printed paperback, and an exclusive audiobook version. The digital text versions of this collection will be available in 2013." 
Journeys Birth is confirmed to give more information about the collapse (0:48:30 [1]) and will also touch on how the Azadi are intimately familiar with magic (3:56:30 [1]).
The text version of the stories were first planned to release in 2013, but did not surface that year. Then, supposedly one day before Book One released on October 21st, 2014, two of the four stories were announced to be available to backers and those who purchased the Special Edition of the game. This unfortunately didn't happen as well.
Community content is available under
CC-BY-SA
unless otherwise noted.