The Longest Journey
Edit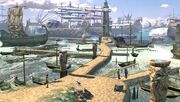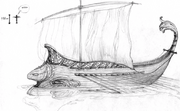 The enormous Harbour at Marcuria is the main source of her wealth. Ships from across Arcadia bring trade to the Northlands from here and goods to the nearby Temple Marketplace through the South Gate.
The docks here are home to the White Dragon while she is stranded by the wind, along with many other magnificent galleons. The sailors Captain Horatio Nebevay and Umber Ianos can also be found here.
Later in the story, April Ryan arrives back at the harbour from Alais on a Shadow Ship, to discover all the docks are empty and the Chaos Vortex is nearby.
Dreamfall
Edit
When the Azadi arrived and occupied Marcuria, the South Gate was closed on their orders and the Harbour fell into disuse. Most shipping traffic now comes into Marcuria through another harbour at the West Gate. Shady Quay also sees many vessels, but the need for goods to come through Oldtown means they are usually ships belonging to the magical races.
Community content is available under
CC-BY-SA
unless otherwise noted.